Glass Garage Doors in Austin
Glass garage doors are the perfect blend of style and functionality, and in Austin, TX, there's no better choice for their installation, repair, and replacement than Infinity Garage Door. Our skilled team specializes in working with these unique doors, ensuring that your home stands out with a touch of modern elegance. Whether it's a sleek new installation or expert repair, we handle every aspect with care and professionalism. Our services are designed to enhance the beauty and value of your Austin home.
Ready to transform your garage? Call us today or schedule an appointment for unparalleled service!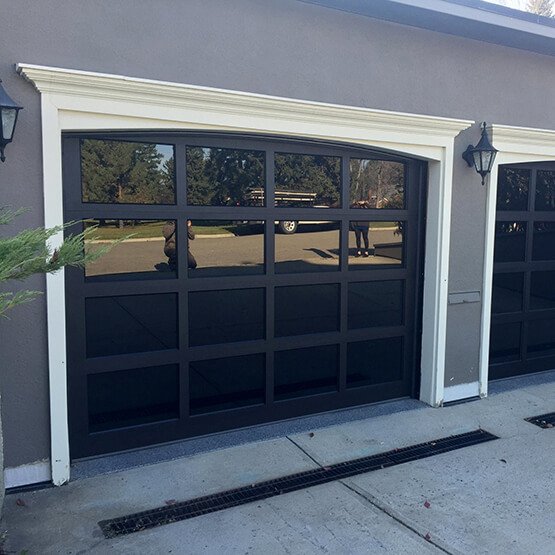 Benefits of Glass Garage Doors – Enhance Your Space
Glass garage doors offer numerous advantages for homeowners in Austin. Here are some key benefits:
Natural Light: These doors let in ample sunlight, brightening your garage and reducing the need for artificial lighting.
Modern Appeal: Glass doors add a contemporary, stylish look to your home's exterior.
Customizable Designs: Choose from various styles and finishes to match your home's unique aesthetic.
Durability: Made with sturdy materials, these doors withstand weather elements while maintaining their elegant appearance.
At Infinity Garage Door, we specialize in the installation, repair, and replacement of glass garage doors, ensuring top-notch service and customer satisfaction.
Contact us today to schedule your service!
Stylish Glass Garage Doors Installation in Austin
Adding a glass garage door is a smart way to make your Austin home look great. These doors let in lots of light, making your garage brighter. They come in different styles, so you can find one that looks just right with your house. They're tough too, which means they last. Our team can put them in for you and help with any fixes you need later. If you're thinking about getting a glass garage door, get in touch with us. We can tell you more and help you choose the perfect one for your home.
Contact us to find out more and set up a time to get started!
Easy Maintenance for Glass Garage Doors in Austin
Keeping glass garage doors in good shape in Austin is important. Regular cleaning keeps them looking nice and working well. It's a good idea to check the parts like hinges and rollers to make sure they move smoothly. If you find any cracks or chips in the glass, it's best to fix them quickly to avoid bigger problems. For any maintenance needs, our skilled team is here to help. We can fix small issues before they turn into big ones and keep your door working like new.
Need a hand with your glass garage door? Give us a call, and we'll take care of it!
Keep Your Glass Garage Doors Perfect in Austin
Maintaining your glass garage door is key to keeping your Austin home looking its best. Simple steps like regular cleaning and checking for wear and tear go a long way. If you spot any damage, it's important to get it fixed right away to avoid more costly repairs later. We're here to help with all your maintenance needs. From quick fixes to thorough check-ups, our team ensures your glass garage door stays in top condition.
Ready for hassle-free maintenance? Contact us now for expert care and peace of mind.
What are the benefits of installing a glass garage door?
Glass garage doors offer a modern look, allow natural light into your garage, and can be customized to fit various home styles. They are also durable and can enhance the curb appeal of your home.
How durable are glass garage doors?
Glass garage doors are made with high-quality, tempered glass and sturdy frames, making them quite durable. They are designed to withstand daily use and various weather conditions while maintaining their aesthetic appeal.
Can glass garage doors be insulated?
Yes, many glass garage doors come with insulation options. Insulated glass helps maintain temperature control in your garage, which can be beneficial for energy efficiency and comfort, especially in areas with extreme weather conditions.
Are glass garage doors secure?
Glass garage doors are designed with security in mind. The tempered glass is strong and difficult to break, and the doors often feature secure locking mechanisms. However, as with any garage door, it's important to have proper security measures in place.
How much maintenance do glass garage doors require?
Glass garage doors require regular cleaning to maintain their appearance and functionality. It's recommended to check the tracks, rollers, and other moving parts periodically for wear and tear. Prompt repairs and adjustments can prevent larger issues down the line.