Garage Door Replacement in Austin, TX by Infinity Garage Door
When it's time to replace your garage door in Austin, TX, look no further than Infinity Garage Door. We understand that a garage door is more than just an entry point; it's a key component of your home's security and curb appeal. Our team provides a wide range of quality doors, from modern, sleek styles to classic, traditional designs, ensuring you find the perfect match for your home. With our commitment to top-notch materials, skilled installation, and exceptional customer service, we guarantee your satisfaction.
Ready for a fresh new look with a durable, beautiful garage door? Call us or schedule an appointment today to explore your options and find the perfect solution with Infinity Garage Door.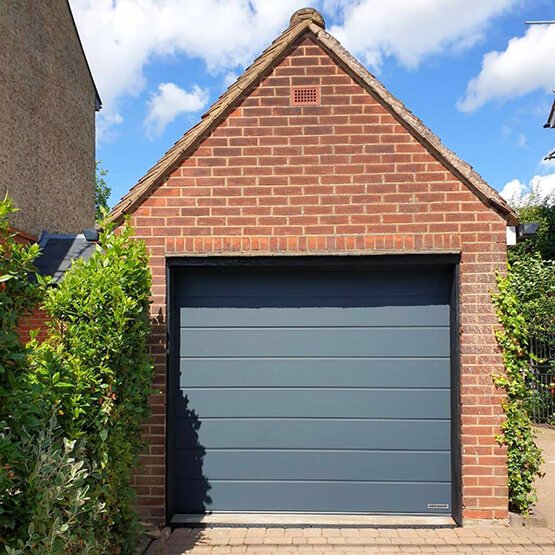 Top Reasons for Replacing Your Garage Door
Enhanced Home Security: A new door can provide stronger protection against break-ins.
Boosted Home Value: Upgrading your garage door can increase your home's resale value.
Improved Energy Efficiency: Modern doors offer better insulation, reducing heating and cooling costs.
Reduced Maintenance: Newer models often require less upkeep than older, worn-out doors.
Aesthetic Appeal: A new door can dramatically improve your home's exterior look.
Advanced Technology: Upgrading allows access to newer features like smart home connectivity.
Considering a new garage door? Contact us now for a seamless installation and to give your home a fresh, secure, and efficient upgrade!
Easy Garage Door Panel Replacement in Austin
Garage door panels can get dented, warped, or faded over time, affecting not just how your garage looks but also how it works. If your garage door isn't looking or functioning at its best, panel replacement might be a simple solution. Swapping out just the damaged or old panels instead of the entire door is a cost-effective way to enhance your garage's appearance and functionality. It's also a quick fix that can be done without disrupting your daily routine. This process is not just about making your door look good again; it ensures that your garage remains secure and operates smoothly.
Got a damaged or aging garage door panel? Reach out to us today for expert panel replacement services and revamp the look and function of your garage quickly and efficiently.
Garage Door Window Replacements in Austin, Texas
Garage door windows can transform the look and feel of your garage and home. At Infinity Garage Door, we understand the importance of these small details. That's why we offer a variety of garage door window replacement options to fit your specific style and needs. Whether you're looking to bring in more natural light, enhance your home's curb appeal, or just want a change, replacing your garage door windows is a simple yet effective solution. Our team ensures a seamless installation process, with high-quality materials that promise durability and style.
Interested in adding a touch of elegance to your garage with new windows? Contact Infinity Garage Door, where we provide professional, hassle-free window replacements tailored to your unique style.
Garage Door Bottom Track Replacement Made Easy
The bottom track of your garage door is crucial for its smooth operation, guiding and supporting the door as it opens and closes. Over time, this track can become bent, rusted, or clogged with debris, leading to a garage door that sticks, squeals, or even becomes unsafe to operate. Replacing your garage door's bottom track can solve these issues, ensuring your door moves smoothly and reliably. Our experienced technicians can quickly assess and replace damaged or worn tracks, using high-quality parts to extend the life and performance of your garage door.
Experiencing issues with your garage door track? Reach out now for quick, efficient bottom track replacement services, and get your garage door back to running smoothly and safely.
Reliable Garage Door Cable Replacement in Austin
Garage door cables play a vital role in the overall safety and functionality of your garage door. These cables help to lift and lower the door smoothly and evenly. If a cable snaps or frays, it can lead to a garage door that's unbalanced or, worse, unsafe to operate. Replacing a garage door cable isn't just about fixing a broken component; it's about ensuring your garage door operates safely and reliably. Our expert team in Austin specializes in quickly identifying cable issues and replacing them with high-quality, durable cables. This service not only fixes immediate problems but also helps prevent future mishaps and extends the lifespan of your garage door.
Notice a problem with your garage door cables? Don't wait until it's too late – contact us today for fast, professional garage door cable replacement and keep your garage door running safely and smoothly.
Upgrade Your Home with Infinity Garage Door Replacement
Is your garage door looking worn out or not functioning as smoothly as it used to? It might be time for an upgrade. Infinity Garage Door provides top-notch garage door replacement services in Austin, TX, ensuring that your home not only looks great but also benefits from enhanced security and functionality. With a wide range of styles and materials to choose from, we make it easy to find a garage door that fits your home's aesthetics and your personal preferences. Our experienced team guarantees a smooth, hassle-free installation, transforming the look and feel of your home quickly and efficiently.
Thinking of replacing your old garage door? Reach out to Infinity Garage Door for expert advice and installation, and step into a safer, more stylish home today!
How do I know when it's time to replace my garage door?
Typically, it's time to consider replacement if your garage door is frequently needing repairs, showing signs of significant wear (like rusting or warping), or if it no longer operates smoothly and quietly. Upgrading can also be a matter of improving home security or enhancing curb appeal.
What types of garage doors are available for replacement?
There are several types, including traditional steel, wood, aluminum, and modern glass doors. Each material offers different aesthetics, durability, insulation properties, and maintenance requirements.
How long does it take to replace a garage door?
The time can vary based on the type of door and the complexity of your installation, but typically, a garage door can be replaced within a day.
Will a new garage door add value to my home?
Yes, a new garage door can significantly boost curb appeal, which contributes to the overall value of your home. It's often considered one of the best home improvement projects for return on investment.
Can I install a new garage door myself?
While it's physically possible, garage door installation can be complex and dangerous due to the high-tension springs and the precision required. It's usually recommended to have your door installed by a professional to ensure it's safe and functions correctly.