Expert Garage Door Opener Repair In Austin, TX
A malfunctioning garage door opener can be more than just an inconvenience; it can be a matter of safety and security. At Infinity Garage Door, we specialize in repairing all types of garage door openers, ensuring they function reliably and efficiently. Whether it's a chain-drive, belt-drive, or screw-drive opener, our team in Austin, TX, is equipped with the knowledge and tools to fix any issue promptly.
We focus on delivering quality service and lasting solutions, so your garage door opener works seamlessly day in and day out.
If you're facing any troubles with your garage door opener, don't hesitate to call us or schedule an appointment for swift, professional repair.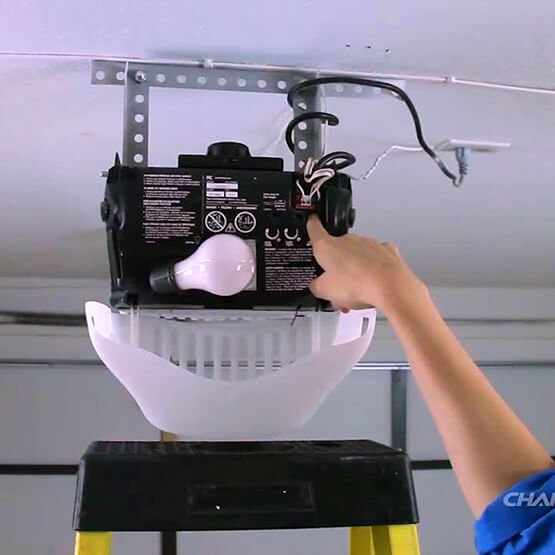 Smooth Garage Door Opener Installation in Austin, Texas
Installing a new garage door opener can make your daily routine so much easier and safer. In Austin, Texas, we provide hassle-free installation services for all types of garage door openers. Whether you're looking for something basic or a high-tech opener with all the smart features, we have the right tools and expertise to get the job done quickly and correctly. Our team ensures that your new opener not only functions flawlessly but also match your specific needs and budget.
Got a garage door that needs a new opener? Reach out to us now for reliable installation services that you can count on!
Easy Control with Garage Door Opener Remotes
Garage door opener remotes are all about making your life simpler and your home more accessible. These handy devices allow you to open and close your garage door with just a press of a button, offering convenience and saving you time. Whether you need a replacement remote or additional one for your family, we've got a variety of options to suit your specific opener model and personal preferences.
 Losing or damaging a remote doesn't mean a hassle; we can easily provide you with a new one, programmed and ready to go. If you're in need of a new garage door opener remote or want to learn more about your options, just give us a shout. We're here to help make accessing your garage effortless and secure.
Quick Garage Door Opener Keypad Replacement
Replacing your garage door opener keypad can upgrade your garage's security and convenience. A keypad outside your garage lets you open the door using a secure code, which means you don't always need a remote in hand. It's especially handy if you like going for walks or runs without carrying keys. If your keypad is not working, looks worn out, or you want to upgrade to a newer model with better features like backlit numbers or wireless connectivity, we're here to help. We provide fast, reliable keypad replacement services, ensuring your new keypad is up and running smoothly in no time.
Need a new keypad or thinking about an upgrade? Contact us today for easy, efficient keypad replacement services. Your secure, convenient access to your garage is just a call away!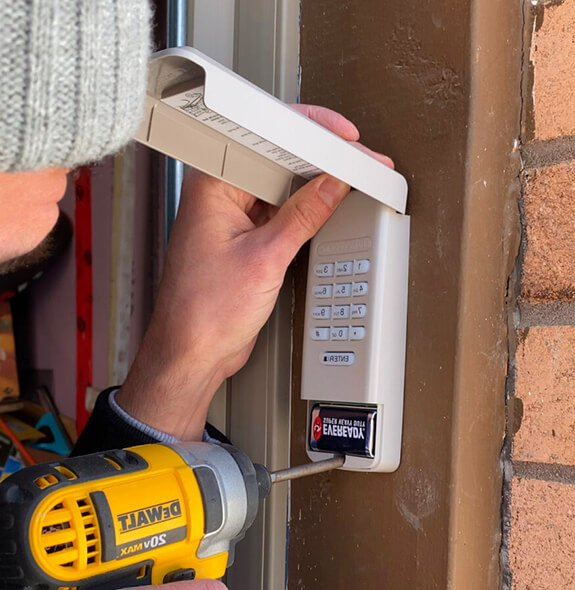 Reliable Garage Door Opener Belt Replacement in Austin
In Austin, keeping your garage door opener in top shape includes taking care of its belt. The belt is a critical part that helps your garage door glide smoothly and quietly. If you notice your garage door opener is making more noise than usual, or if it's hesitating when opening or closing, it might be time for a belt replacement. At Infinity Garage Door, we specialize in quickly and efficiently replacing worn or broken belts, ensuring your garage door opener works quietly and reliably. Using high-quality materials and our expert knowledge, we'll make sure your garage door opener is back in perfect condition.
If you think your garage door opener belt needs a look, or if it's time for a replacement, reach out to Infinity Garage Door – we're here to ensure your garage door operates smoothly and quietly!
Essential Garage Door Opener Bracket Repairs
The bracket on your garage door opener plays a crucial role in the overall function and safety of your door. It's the support system that holds the opener in place, ensuring smooth and reliable operation. If you notice your garage door shaking, making odd noises, or not aligning properly when it opens or closes, it could be a sign of a bracket problem. Ignoring such issues can lead to bigger, more expensive repairs down the line. We provide expert services to fix or replace your garage door opener bracket, making sure everything is securely attached and working as it should.
For a safe and fully functioning garage door, don't wait! Get in touch with us now for professional garage door opener bracket repairs.
Choose Infinity Garage Door for Your Garage Door Needs
Looking for reliable and expert garage door services in Austin? Infinity Garage Door is your go-to solution. We understand the importance of a fully functional, secure, and aesthetically pleasing garage door. Whether it's urgent repairs, routine maintenance, or a brand-new installation, our team of skilled technicians is dedicated to delivering the highest quality service. With our attention to detail, commitment to customer satisfaction, and competitive pricing, we strive to exceed your expectations.
Don't let garage door troubles keep you down. Reach out to Infinity Garage Door today, and experience swift, professional service tailored just for you!
What types of garage door openers are available?
There are mainly three types of garage door openers: chain drive, which uses a chain to move the door; belt drive, which uses a belt for quieter, smoother operation; and screw drive, which rotates a threaded steel rod to move the door. Each type has its own benefits depending on your needs for noise level, maintenance, and budget.
How do I know if I need to replace my garage door opener?
Signs that you might need to replace your opener include frequent malfunctions, excessive noise, slow movement, or if the opener is over 10 years old. Upgrading can also give you access to new features like smart home connectivity.
Can I install a new garage door opener myself?
While it's possible for a DIY-savvy homeowner to install a garage door opener, it can be a complex task involving mechanical, electrical, and safety aspects. Professional installation is recommended to ensure safety and proper operation.
How long does a garage door opener typically last?
A garage door opener can last anywhere from 10 to 15 years, depending on the quality of the unit, frequency of use, and how well it is maintained.
Are smart garage door openers worth the investment?
Smart garage door openers offer convenience and security features, such as remote access via a smartphone app, alerts when the door is used, and the ability to open or close the door from anywhere. These features can be particularly valuable for people who travel frequently or often forget to close their garage door.