Expert Garage Door Repair in Marble Falls, TX
Discover unparalleled service with Infinity Garage Door, your go-to specialists in Marble Falls, TX, for all garage door repair needs. We understand the challenges you face when your garage door malfunctions. Our team of experienced technicians is equipped to handle a variety of repairs – from broken springs to malfunctioning openers, ensuring your door operates smoothly and securely. We're committed to providing quick, reliable, and cost-effective solutions. Prioritize your peace of mind and home security; don't let a faulty garage door disrupt your day.
Call us now or schedule an appointment for swift, professional service tailored to your needs.
Garage Door Services in Marble Falls, Texas
At Infinity Garage Door, we're dedicated to offering a comprehensive range of garage door services to meet all your needs in Marble Falls, Texas. Our services include:
Installation: Expert installation of new garage doors, ensuring style, functionality, and security.
Repair: Quick and effective repair of common issues like broken springs, cables, and openers.
Maintenance: Regular maintenance services to keep your garage door in top condition, reducing the likelihood of future repairs.
Replacement: Upgrading old or damaged doors with modern, efficient models.
Customization: Personalized garage door solutions to match your home's aesthetics and your specific requirements.
Our friendly, skilled team prioritizes your satisfaction, focusing on reliable, timely, and affordable service. With us, you're not just getting a service provider; you're gaining a partner in home care.
Contact us today to explore how we can enhance the safety and appearance of your home with our top-notch garage door solutions!
Reliable Broken Spring Replacement Services
Dealing with a broken garage door spring? It's a common but critical issue, impacting your door's functionality and safety. Our team specializes in swiftly replacing broken springs, restoring your garage door to perfect working order. We understand the urgency and offer prompt, efficient service to ensure your daily routine isn't disrupted. Trust us to deliver durable, high-quality replacements at affordable prices. Don't let a broken spring compromise your safety or convenience.
Contact us now for fast and reliable spring replacement!
Expert Hinge Repairs & Replacements for Your Garage Door
Faulty or worn-out hinges can lead to noisy, unstable, and even unsafe garage door operations. We specialize in repairing and replacing garage door hinges, ensuring your door moves smoothly and securely. Our experienced technicians quickly identify and fix hinge issues, using quality parts for long-lasting performance. Don't ignore the small signs – a squeaky or stiff door can mean hinge troubles.
For reliable, straightforward service, reach out to us today to get your garage door hinges fixed or replaced efficiently.
Top-Notch Opener Repairs & Installations in Marble Falls, Texas
A malfunctioning or outdated garage door opener can be more than just an inconvenience; it can be a security issue too. We provide expert repair and installation services for all types of garage door openers in Marble Falls, Texas. Whether you need a quick fix or a new installation, our team ensures your garage door operates smoothly, quietly, and safely. We focus on customer satisfaction and offer solutions tailored to your needs.
For dependable service, get in touch with us now to handle all your garage door opener requirements.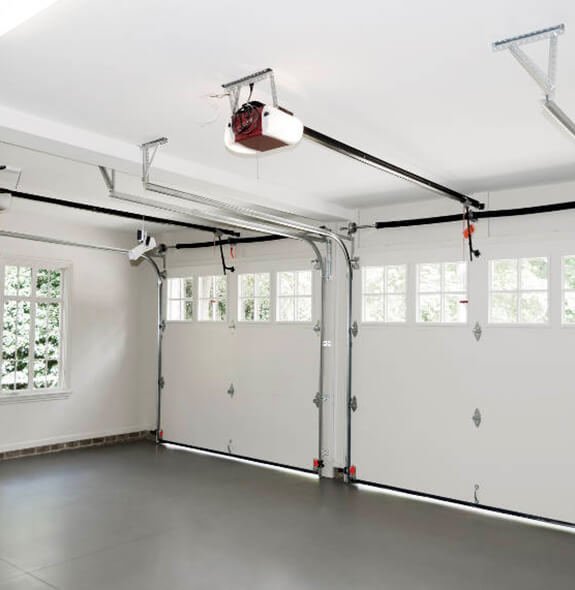 Professional Garage Door Track Adjustment Services
A misaligned or damaged garage door track can lead to serious operational issues and even pose safety risks. Our specialized services ensure your garage door's tracks are properly aligned and functioning smoothly, preventing further damage and extending the lifespan of your door. Regular track adjustments can save you from costly repairs in the future.
Don't wait for the problem to worsen – a smooth-running garage door is just a call away. Reach out to us now for precise and efficient track adjustment solutions!
Choose Infinity Garage Door for Local Expertise in Marble Falls, Texas
Nestled in the heart of Texas Hill Country, Marble Falls is known for its breathtaking landscapes and friendly community. This charming city, encompassing zip codes 78654 and 78657, values quality service and local expertise. When searching for "garage door repair near me in Marble Falls, Texas," look no further than Infinity Garage Door.
We bring top-notch repair, installation, and maintenance services right to your doorstep, ensuring your garage doors are always in perfect working order.
Connect with us today and experience prompt, reliable service tailored to the Marble Falls community.
What differentiates Infinity Garage Door from other garage door service providers in Marble Falls, Texas?
Infinity Garage Door stands out in the Marble Falls community for our commitment to reliability, efficiency, and superior customer service. Our team of skilled professionals uses the latest tools and techniques to ensure quality repairs, installations, and maintenance services. We pride ourselves on our fast response times and our dedication to ensuring customer satisfaction with every job.
How long has Infinity Garage Door been in business?
Infinity Garage Door has been providing expert garage door services for several years. We've built a reputation for quality workmanship and exceptional customer service in the Marble Falls area.
How often should a garage door be serviced?
It's generally recommended to service your garage door at least once a year. Regular maintenance can help prevent major repairs and ensure your door operates safely and efficiently.
Can I repair my garage door myself?
While some minor repairs might be manageable, major garage door repairs should be handled by professionals. Working on garage doors, especially springs and cables, can be dangerous without proper tools and expertise.
What are the signs that my garage door opener needs to be replaced?
Common signs include frequent malfunctions, excessive noise during operation, slow movement, and failure to open or close the door properly. Upgrading to a newer model can also bring enhanced security features and connectivity options.