Commercial Garage Door Services in Austin, TX
At Infinity Garage Door, we specialize in providing comprehensive commercial garage door services in Austin, TX. Understanding the unique needs of businesses, our team is dedicated to delivering efficient, reliable, and high-quality solutions tailored to your specific requirements. From robust installation to swift repair and regular maintenance, we ensure your commercial garage doors operate smoothly and securely, minimizing downtime and enhancing productivity. Our experienced professionals use the latest tools and techniques to address any commercial garage door challenge. Ready for exceptional service that meets your business needs?
Call us now or schedule an appointment to keep your commercial operations running without a hitch.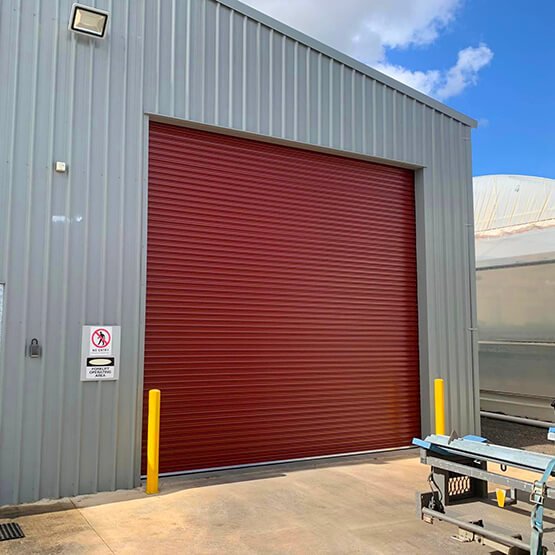 Expert Commercial Garage Door Installation in Austin
Choosing the right garage door for your business in Austin is crucial for both security and functionality. We understand that every business has different needs, which is why we offer a diverse range of commercial garage door installation services. Whether you're looking for sturdy, heavy-duty doors for industrial settings or sleek, stylish options for retail, we've got you covered. Our team of skilled technicians ensures a smooth and precise installation, providing a hassle-free experience from start to finish.
With a focus on durability and quality, we help protect your business while enhancing its appearance. Need a reliable solution for your commercial property? Get in touch to discover our top-notch installation services and secure your business effectively.
Fast and Reliable Commercial Garage Door Repair
When your commercial garage door in Austin starts to show signs of wear or suddenly breaks down, it can significantly disrupt your business operations. That's why our prompt and efficient repair services are here to ensure minimal downtime for your company. We handle a variety of issues, from broken springs and malfunctioning openers to off-track doors and more. Our team is equipped with the right tools and expertise to diagnose and fix the problem quickly, ensuring your door is back to working condition in no time.
Don't let a faulty garage door slow down your business – reach out today for quick, reliable repair services!
Comprehensive Commercial Garage Door Replacement in Austin
Updating or replacing your commercial garage door in Austin can not only enhance the look of your business but also improve functionality and security. Whether your existing door is beyond repair or you're upgrading for a more modern, efficient model, our commercial garage door replacement services have got you covered. We offer a wide range of options, from heavy-duty steel doors to stylish, energy-efficient models, catering to every business need and aesthetic. Our skilled team ensures a seamless replacement process with minimal disruption to your daily operations.
Upgrade your business's security and curb appeal – contact us for a smooth and professional garage door replacement!
Expert Commercial Garage Door Springs Repair and Replacement
For any commercial setting in Austin, the springs of a garage door are crucial for safe and efficient operation. At Infinity Garage Door, we specialize in both repairing and replacing worn or broken springs. These springs hold a lot of tension, and if not handled correctly, can be dangerous. That's why our professional team is trained to manage these repairs with the utmost safety and precision. Whether it's a torsion or extension spring system, we have the expertise to ensure your garage door works smoothly and reliably.
Trust Infinity Garage Door for all your commercial garage door spring needs in Austin, ensuring longevity and safety for your business.
Reliable Service for Commercial Garage Door Openers
When it comes to commercial garage door openers in Austin, maintaining them in top condition is key to ensuring the smooth running of your business operations. At Infinity Garage Door, we specialize in servicing all types of commercial garage door openers. We understand that a malfunctioning opener can significantly disrupt your business, so we offer prompt, efficient service and maintenance to prevent or address any issues.
Our team is skilled in handling various opener models, ensuring they function effectively and securely, which is vital for the safety and efficiency of your commercial property. Trust us to keep your garage door openers in perfect working condition.
Get Your Commercial Garage Doors Serviced Today!
For unparalleled service in commercial garage door installation, repair, and maintenance in Austin, Texas, look no further than Infinity Garage Door. We understand the importance of a smoothly operating garage door system for your business. That's why we offer fast, reliable, and expert services tailored to meet your specific commercial needs. Whether it's a full door replacement or a routine maintenance check, our skilled technicians are ready to ensure your garage doors function flawlessly.
 Don't let a garage door issue slow down your business. Call Infinity Garage Door now or schedule an appointment online to get started!
What types of commercial garage doors do you service?
We service a wide range of commercial garage doors, including rolling doors, sectional steel doors, and full-view aluminum doors. Whether it's for a warehouse, a retail shop, or any other commercial facility, we've got you covered.
How often should commercial garage doors be maintained?
To ensure optimal performance and safety, we recommend having commercial garage doors professionally inspected and maintained at least once a year. Regular maintenance can help prevent unexpected breakdowns and extend the life of your door.
Can you repair or replace damaged commercial garage door panels?
Yes, we can! If a section of your commercial garage door is damaged, we can typically repair or replace just the affected panels, saving you the cost and hassle of installing an entirely new door.
What should I do if my commercial garage door opener is not working?
If your garage door opener is malfunctioning, avoid trying to repair it yourself as it could lead to further damage or safety hazards. Contact us for a professional assessment. We specialize in servicing and repairing all types of commercial garage door openers.
Do you offer emergency services for commercial garage doors?
Yes, we understand that a malfunctioning commercial garage door can significantly impact your business. That's why we offer emergency repair services to address urgent issues swiftly and efficiently.