Expert Garage Door Repair in Waco, TX - Trusted Solutions
At Infinity Garage Door, we understand the inconvenience of a malfunctioning garage door. That's why we offer prompt and professional garage door repair services to the residents of Waco, TX. Our skilled technicians are equipped to tackle any issue, from broken springs to malfunctioning openers, ensuring that your garage door is back in perfect shape in no time. We're dedicated to providing you with the best service experience.
Don't hesitate, call us or schedule an appointment to get your garage door fixed today!
Comprehensive Garage Door Services in Waco, Texas - Your Home's Best Ally
For the ultimate care of your garage doors in Waco, look no further:
Emergency Repairs: We're on call for urgent fixes, anytime.
Regular Maintenance: Scheduled servicing to keep doors optimal.
Installation Excellence: Upgrade with our range of quality doors.
Safety Inspections: Ensuring every door is safe for use.
Parts Replacement: From rollers to panels, we handle it all.
Infinity Garage Door simplifies your garage door needs with straightforward, effective services. We're committed to excellence, so your garage door functions flawlessly.
Ready for seamless operation? Reach out now and we'll take care of the rest!
Infinity Garage Door: Quality Panel Replacement Services
Damaged or dented garage door panels can be an eyesore and compromise your home's security. Infinity Garage Door specializes in quick and efficient panel replacements that restore the look and integrity of your garage door. We make the process easy and stress-free, so your garage door will be looking and functioning as good as new.
Contact us to refresh the appearance and durability of your garage door with our top-notch panel replacement service!
Effective Weather Stripping for Garage Doors in Waco
Keep your garage dry and draft-free with our professional weather stripping services. Weather stripping is a simple, yet critical upgrade that seals out the elements, helping to preserve the interior of your garage and increase energy efficiency. We ensure a perfect fit to protect your space from wind, rain, and dust.
Call today to shield your garage with our expert weather stripping installation!
Keep Your Garage Door Perfect with Tune-Up and Inspection
Regular tune-ups and inspections are key to a long-lasting garage door. These check-ups catch small problems before they turn into big ones, ensuring smooth operation. We examine all parts, tighten what's loose, lubricate moving pieces, and give you peace of mind.
Schedule your garage door's tune-up and inspection today to maintain its health and safety!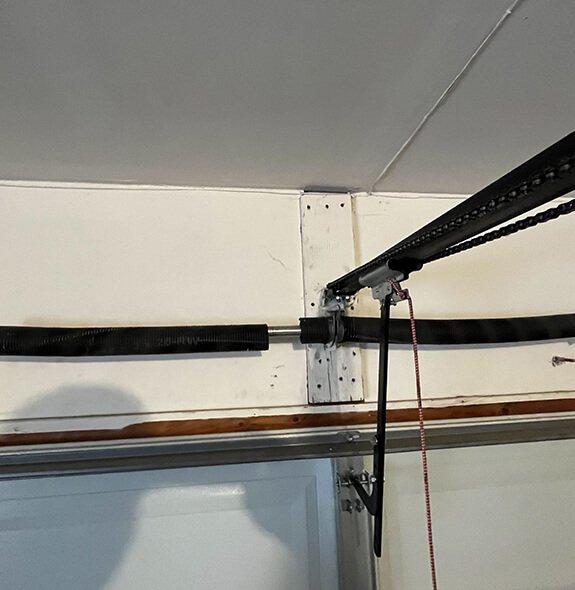 Infinity Garage Door: Fixing Broken Springs in Waco
Broken garage door springs can bring your daily routine to a halt. Infinity Garage Door is here in Waco to provide quick, safe replacements, getting your garage door back in action without delay. We understand the urgency and provide a hassle-free service with durable results.
Got a snapped spring? Reach out to us now for fast, reliable spring repair services!
Infinity Garage Door - Your Go-To for Garage Door Repair Near Me in Waco, TX
Waco, a vibrant heart in Texas, known for its rich history and community spirit, is home to residents who value reliability and quality. Infinity Garage Door embodies these principles, offering unparalleled garage door repair services across the city's sprawling zip codes, including 76701, 76707, 76710, and beyond.
Don't let a faulty garage door disrupt your day. Call Infinity Garage Door for swift, expert service in Waco, TX!
How quickly can Infinity Garage Door respond to a repair call in Waco?
We offer prompt service with the aim to address your repair needs as quickly as possible, often providing same-day service.
Does Infinity Garage Door provide warranties for their services and parts?
Yes, we stand by the quality of our work and provide warranties on both services and replaced parts. Details can be discussed upon service confirmation.
What should I do if my garage door won't open?
First, check if there are obvious obstructions or if the opener is unplugged. If nothing is amiss, it's best to contact a professional to avoid further damage or injury.
How often should I have my garage door serviced?
It's recommended to have your garage door serviced at least once a year to ensure it remains in optimal working condition.
Can I repair my garage door by myself?
While some minor adjustments can be done by homeowners, significant repairs, especially related to springs and cables, should be left to professionals to ensure safety and proper functioning.