Garage Door Repair Lakeway, TX - Your Trusted Local Experts
When it comes to reliable garage door repair in Lakeway, TX, Infinity Garage Door sets the standard for excellence. Our skilled team delivers top-notch services, ensuring that every repair, from spring replacement to opener malfunctions, is handled with precision and care. We understand the importance of a functioning garage door for your home's security and convenience. That's why we commit to providing fast, effective, and affordable solutions.
With a focus on customer satisfaction, we're here to resolve your garage door woes promptly.
Don't wait – call us today or schedule an appointment to experience the best in local garage door services!
Our Comprehensive Garage Door Services in Lakeway, Texas
Infinity Garage Door is proud to offer an extensive array of garage door services in Lakeway, Texas, catering to every need and ensuring top functionality and safety of your garage doors:
Installation: Get the perfect new garage door with our wide range of stylish and durable options.
Repair: We tackle common and complex issues like broken springs, frayed cables, and non-functional openers.
Regular Maintenance: Extend your garage door's lifespan with our thorough maintenance checks and tune-ups.
Parts Replacement: From rollers to panels, we replace any worn or damaged parts with top-quality alternatives.
Emergency Services: Facing an urgent issue? Our team is ready to provide prompt, effective solutions.
We are committed to delivering not just services, but solutions that enhance the safety and appearance of your home. Get in touch with us now for dependable garage door services in Lakeway!
Expert Garage Door Installations for Your Home
Choosing the right garage door is crucial for both the look and security of your home. Our installations include a variety of styles and materials to match your aesthetic and functional needs. We ensure a smooth, hassle-free installation process, providing strong, durable doors that enhance your home's curb appeal and safety. Trust our team for a seamless experience and long-lasting results.
Ready for a new garage door? Contact us today to explore your options and schedule an installation!
Replacement of Damaged or Worn-Out Garage Door Parts
Keeping your garage door in top condition sometimes means replacing damaged or worn-out parts. Our services cover everything from broken springs and snapped cables to malfunctioning openers and dented panels. We replace these parts quickly and efficiently, using high-quality materials to ensure longevity and smooth operation. Regular part replacements can prevent larger issues, saving you time and money in the long run.
Notice something off with your garage door? Reach out to us now for a quick assessment and expert replacement services.
Maintenance & Lubrication Services in Lakeway, TX
Regular maintenance and proper lubrication are key to ensuring your garage door operates smoothly and lasts longer. Our service in Lakeway, TX, includes thorough checks and adjustments to keep your garage door at its best. We focus on preventing issues before they start, saving you from future hassles and expenses. Lubrication of moving parts reduces noise and wear, enhancing overall performance.
Is your garage door due for a tune-up? Contact us today for professional maintenance and lubrication services!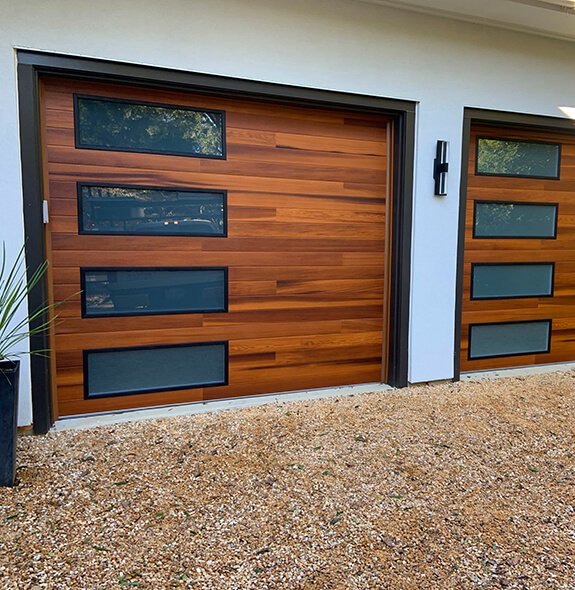 Custom Garage Door Designs Tailored for You
Looking for a garage door that perfectly fits your home's style and personality? Our custom garage door design service lets you create a door that's uniquely yours. Choose from a variety of materials, colors, and features to match your home's architecture and your personal taste. Whether you're looking for modern elegance or classic charm, we help you design a door that not only looks great but also meets your functional needs. Dreaming of a custom garage door? Reach out now and let's turn your vision into reality!
Infinity Garage Door - Your Go-To for Garage Door Repair Near Me in Lakeway, TX
Lakeway, TX, known for its scenic views and serene lake lifestyle, offers a perfect blend of natural beauty and community spirit. Nestled in the zip codes 78734 and 78738, this city deserves the best in home care and maintenance. For residents searching for "garage door repair near me in Lakeway, TX," Infinity Garage Door is your trusted local expert.
We bring a commitment to excellence and swift service, ensuring your garage door needs are met with the utmost professionalism.
Looking for reliable garage door solutions in Lakeway? Contact Infinity Garage Door today and experience service that matches the quality of your scenic Lakeway home.
How quickly can Infinity Garage Door respond to service calls in Lakeway, TX?
At Infinity Garage Door, we prioritize prompt and timely service. For most areas in Lakeway, TX, we can often respond to service calls on the same day or within 24 hours.
Does Infinity Garage Door offer any warranties or guarantees on their services?
Yes, we stand behind our work with robust warranties and guarantees. We offer a satisfaction guarantee on all our services and products to ensure peace of mind for our customers.
What should I do if my garage door won't open or close?
First, check the batteries in your remote control and ensure the garage door opener isn't disconnected from power. If these aren't the issues, it's best to contact a professional, as the problem could be due to broken springs, cable issues, or other mechanical faults.
How often should my garage door be serviced to prevent future issues?
We recommend having your garage door serviced at least once a year. Regular maintenance can identify and fix minor issues before they escalate into major problems.
Can I customize a new garage door to match the style of my home?
Absolutely! Custom garage doors can be designed to complement your home's architecture and your personal style preferences. There's a wide range of materials, colors, and window options to choose from.